When you are dieting or sticking to a stricter diet, it can be difficult to know what types of food you can eat. While we all know that salads are a great choice for healthy eating, often it can be difficult to know what to include in a salad.

Jump to:

Without the correct ingredients, salads can quickly become boring and repetitive. While there are many great salad ideas you may already have, it's fun to switch things up and try new ideas every so often.

The key to a successful detox salad is having plenty of options to choose from. When you have a great choice of tasty salads that are quick and easy to make, you will be more likely to stay on track, rather than deviating from your diet plan.

We have scoured the web to provide you with 20 of the best detox salads that will help you with your diet. We have tried them all and can confirm that they really are delicious.
While you may have tried some of these salads before, we hope that there are a few features that you have not yet tried.
What Is A Detox Salad? 
While all salads are healthy and will help your diet, detox salads are the best option if you are looking to lose weight, and be healthier in general.

Detox salads are intended to help your body detox from toxins. Superfoods are a particularly popular choice for detox salads, and they will contain many healthy vegetables and salad options.

Detox salads will feature healthier dressings such as lemon and olive oil, but the dressings are not typically packed with calories. Instead, they will be a lighter option. You usually do not add any type of carbs or proteins to a detox salad, but they can contain healthy fats, such as avocado.

While you may assume that detox salads will be quite bland because of this, they are actually very tasty and filling. Not only are they a healthy option that helps with detoxing, but they are also full of flavor too. 
Detox Salads To Help With Your Diet
Loaded with antioxidants, this salad is the perfect start to your diet. While it isn't filled with a lot of vegetables, it does have tons of Vitamin C and nutrients in the mixture of strawberries, blueberries, and greens. A hint of feta adds healthy fats and protein to the mix.
There is something delightful about this mixture of ingredients. Tomatoes, cucumber, onion, parsley, and mint combine with a light dressing that has just enough olive oil for healthy fats your body needs. A classic salad that is ideal alongside your favorite lean protein.
Nothing beats this light salad. Pomegranate arils are one of the healthiest additions to a salad you can have. They also add a nice punch of color and flavor!
Sometimes, it's just a simple combination of fruits that we need to jump-start our diet. This recipe is loaded with flavor and is ideal for breakfast, snack, or a healthier dessert.
Another perfect addition to the list is this simple fruit salad with three of my favorite fruits. Mango is chock full of vitamin C. Raspberries are filled with antioxidants, and kiwi has a ton of Vitamin C, antioxidants, and fiber!
This salad is one of our personal favorites. It's packed to the brim with goodness, and has 14 grams of protein that is plant based. It's filled with fiber which is great for the gut and is a great detox salad.
It features delicious additions such as chickpeas, sunflower seeds, sesame seeds, and pepitas. There is plenty of healthy kale, red cabbage, and broccoli to keep you fuller for longer too.

The name of this detox salad recipe is fitting, because it is seriously delicious. What we love so much about this recipe is that it uses a carrot-ginger dressing. It is full of flavor, and enhances the taste significantly.
While it may be a simple recipe, it is packed with flavor, and can be adjusted to your personal preferences.
If you enjoy dressings with a punch, this detox salad is a great option. The lemon dressing enhances the flavor without it being too overpowering. All you need to do is add Meyer lemon to some olive oil dressing, and it is good to go.

There are so many tasty ingredients featured in this salad, such as cabbage, cauliflower, spinach, and green onions. You can also add some depth and crunch by adding seeds and nuts too.
If you are looking for a salad to help improve your skin, this is the perfect option for you.
It is filled with so many vitamins that will help to get your skin back on track, such as vitamin B, C, A, and K. It features many great ingredients, such as avocado, cucumber, pumpkin seeds, and almonds.
In addition to being great for your skin, it is fantastic for your body too. It is packed with nutrients and antioxidants that will help you to be as healthy as possible.
As there are so many flavors included, you don't have to worry about this salad being boring. The dressing features avocado, olive oil and parsley. It works really well with all the flavors included in this detox salad.

We love the crunch detox salad recipe. It is filling and has a good amount of texture. You can customize this salad to best suit your preferences too. The ingredients included are anti-inflammatory, and help to boost your immune system.
What makes this recipe stand out from some of the others we have featured is that it contains celery. This is such a great salad item that is low in calories and is full of antioxidants.
The lemon vinaigrette used provides great flavor for the salad, and it is also full of many great nutrients.
The ginger citrus dressing is so tasty. It lifts the taste of the salad as a whole. This salad features ingredients such as apples, cilantro, and raisins. It is full of nutrients too! This salad is the perfect combination of different flavors that all work well together.
If you're studying or in need of some brain power, this salad is the perfect option for you. It is a great balance of sweet and savory flavors. It features ingredients such as blueberries, avocado, and red onions. It is such a delicious treat.

If you want a quick and easy salad recipe that you can eat quickly on the go, this is a useful option to consider. This salad contains cauliflower, kale, red cabbage and carrots at its core.
However, if you prefer your salad to have something extra, you can choose to add avocado, dates, or salt and pepper to it too.
While all types of detox salads are intended to be healthy, this recipe is particularly great for you. While it may be super healthy, it is still packed with flavor. It features butternut squash, cumin, Greek yogurt and shallots. If you enjoy salad with a thicker dressing, this is a fantastic option.

This recipe is easy to recreate, and does not require too much effort. However, it is full of flavor and will keep you fuller for longer. It features ingredients such as currants, sunflower seeds, parsley, and kelp granules. It is oil free and vegan, and is not too calorific, for those who are on a stricter diet.
While this salad only take 5 minutes to prepare, it tastes fantastic. It features so many great salad options, such as radishes, diced red onions, and dried cranberries. It has a good amount of crunch, and the hint of sweetness that the cranberries provide is a great addition.

If you are looking for a recipe filled with superfoods, this is the best option for you. This is one of our personal favorite options because it has a great mixture of ingredients. It provides the perfect balance of sweet and savory flavors.
It also features some ingredients that are less popular in salads, such as blueberries and sprouts. Given this, if you are looking for something slightly different, it is a great option for you.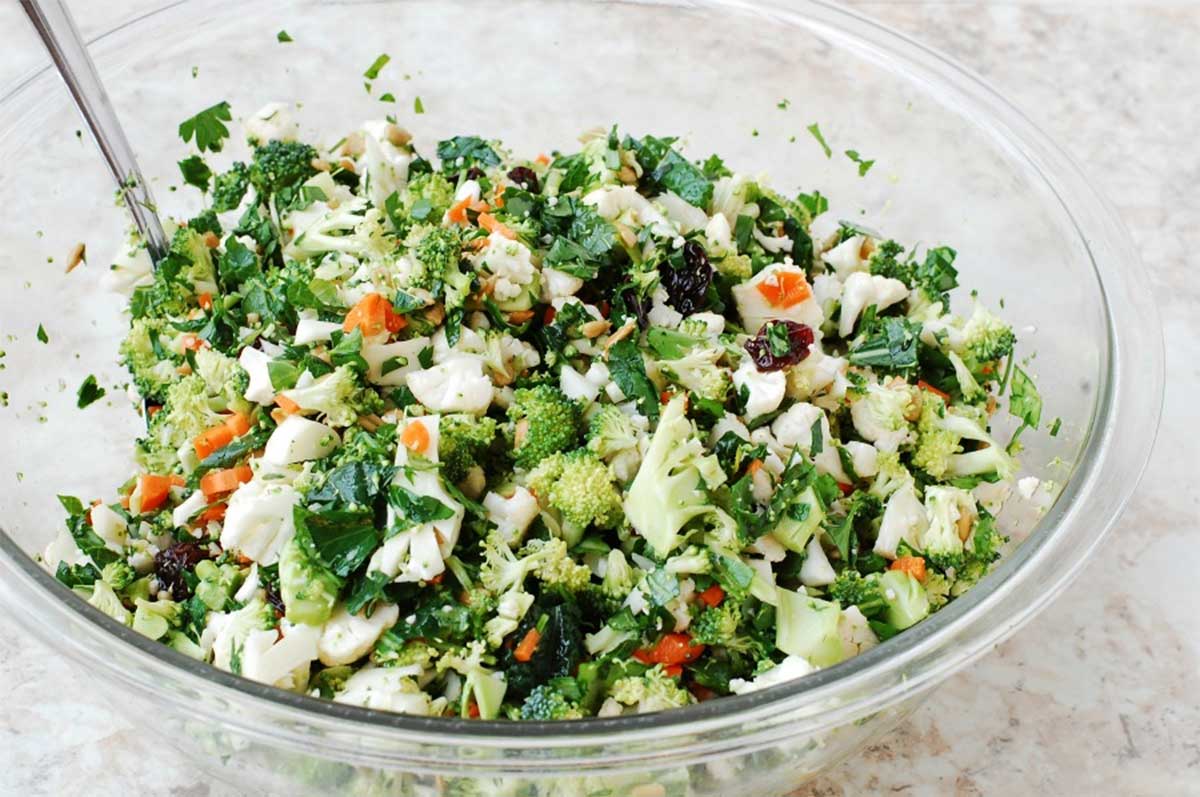 Dark green leafy veggies are a great option for salads. Not only are they flavorsome, but they provide a great amount of vitamins and health benefits too. This salad is filled with these healthy ingredients. The base of the salad is broccoli and kale, and it also features almonds, raisins, and carrots too.

If you enjoy flavorful dressings, you have to try this salad. It features Dijon mustard, chia seeds, lemon juice, and olive oil. The salad consists of kale leaves, carrots, Brussels sprouts, red and purple cabbage. It is filling and delicious.
This is a bright salad that is full of flavor and great food. The apple dressing that features this detox salad is the perfect combination with cauliflower, broccoli, and rainbow carrots.
The honey apple vinaigrette is made using olive oil, apple cider vinegar, garlic & onion. Not only is this dressing tasty, but it has great health benefits too!
When it's the summer, there is nothing better than a salad, even better when it helps to detox your body too. This salad is not only tasty, but it is also light on the stomach too. It has the perfect amount of crunch and texture.

While the salad does feature walnuts, you can use any types of nuts that you prefer. The onions combined with the cherries, is a great mixture of flavors.
If you are looking to embrace your inner goddess, this is a great salad to choose from. It is filled with goodness and will keep you full and satisfied for hours. While it talks about your inner Goddess, it really can be consumed by anyone.

If you enjoy fruit, then you will enjoy this salad. It features strawberries, melons, blueberries, and raspberries. These ingredients are combined with almonds and salad greens. However, if you are not so fond of these foods, you can mix it up and add your own detoxing fruits instead.
This salad is suitable for a paleo and keto diet. In addition to this, it is plant-based too. This salad is particularly tasty and the vinaigrette is full of flavor. The balance of the lemon and the garlic is fantastic, and neither is too overpowering.

Some of the ingredients for this recipe include bell peppers, almonds, and radishes. It is refreshing to eat and light too, which is particularly great in the summer months. Making the vinaigrette is super simple, and this salad will not take too long to prepare.
When the weather is warm, it is a lot easier to eat a salad as we tend to reach for lighter dishes in the warmer months. However, when it comes to the Winter months, it can be difficult to stay on track with your diet. We tend to crave warmer and heavier foods, in comparison to a salad.

However, this salad will help to keep you full and on track with your diet. It features pomegranate which is known to be great at helping your body detox. It also has plenty of greens, navel oranges, and red cabbage.
Summary
We hope you have found these recipes interesting. They are so tasty, and we have included as many options as possible. There should be a type of salad that you will enjoy on this list.

As you can see, there is so much choice when it comes to detox salads. You don't have to worry about your salads tasting boring anymore!
📖 Recipe
Yield: 6
Easy Tabbouleh Salad + 20 Detox Salads To Help With Your Diet
A tasty combination of bulgar and parsley makes the ideal side for your favorite Meditteranean dish!
Ingredients
1 cup cooked bulgar
1 medium cucumber, diced
1 medium tomato, diced
1 teaspoon
2 cups fresh chopped parsley
¼ cup fresh choppd mint
3 green onions, diced
⅓ cup olive oil
3 tablespoons lemon juice
1 clove garlic, minced
Instructions
Combine all ingredients in a large bowl and toss until combined. Taste and add additional salt if needed. Then serve chilled.
Notes
Best served alongside Greek or Mediterranean dishes.
Nutrition Information:
Yield:
6
Serving Size:
1
Amount Per Serving:
Calories:

173
Total Fat:

12g
Saturated Fat:

2g
Trans Fat:

0g
Unsaturated Fat:

10g
Cholesterol:

0mg
Sodium:

20mg
Carbohydrates:

16g
Fiber:

2g
Sugar:

7g
Protein:

2g